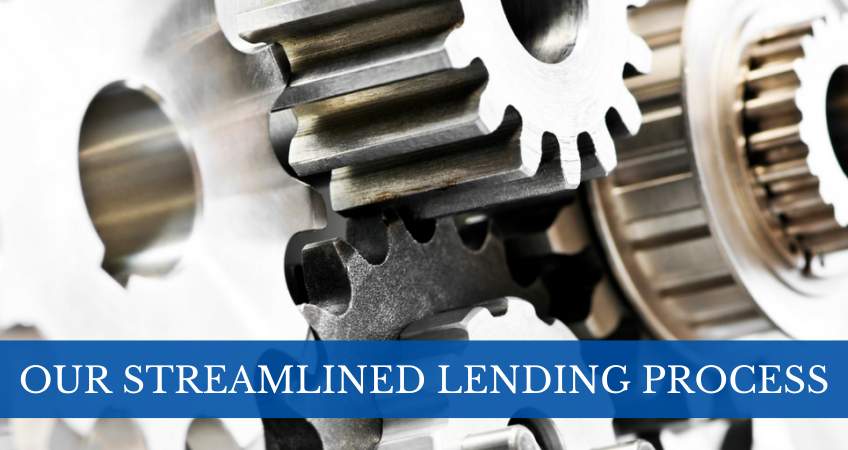 Our Streamlined Lending Process
Securing a loan for your financial advisory firm can be time consuming and overwhelming if the lender is not familiar with your business model or if you meet with delays during the lending process.
At Salt Creek, we are dedicated to helping financial advisors and RIAs expand their firms with efficient access to capital. It's our goal to help you grow your firm and provide a streamlined lending process.
Our Process
The Salt Creek lending process is designed to be efficient and enjoyable. First, we provide an experienced loan officer to guide you through your loan process. We strive to minimize the number of bank personnel that you need to interact with during a transaction and reduce the time you need to spend on your loan.
We use cutting-edge technologies to keep our loan process simple and efficient. Our secure document portal helps quickly collect and organize your loan documents and offers a live dynamic checklist to keep you informed of what you need to do to complete your loan package.
Our loan process is designed to move through the stages of the loan faster and with less hassle. From pre-qualification to funding, our experienced, highly trained team members will keep your loan on track.
The Salt Creek Advantage
1. Our Secure Document Portal
Fast and effective document management system to speed up the loan packaging process.
2. Live Dynamic Checklists
Dynamic checklist updates when you upload requested documents, giving you up-to-date reminders on outstanding items.
3. Experienced Industry Analysts
Our experienced analysts understand how your business works and can quickly prepare an initial cash-flow analysis for pre-qualification.
4. Dedicated Team Members
Our expert team is dedicated to the financial advisor lending space and works to take you from pre-qualification to funding as quickly as possible.
What are the most common causes of delays?
Our experienced team strives to improve the chance that your loan will close on time. Some common causes of delays that we seek to avoid include failing to have an executed purchase agreement, not having the proper insurances in place, and not having proper entity documentation.
Who will be helping me with my loan?
While other lenders complete hundreds of transactions per year, we focus on a handful of clients to provide the best outcome possible. It's our goal to offer a personalized and intimate loan experience. Our process is built on offering a single loan advisor for your entire lending process. This helps us provide the highest level of service and customized support to our clients.
How long will the process take from start to finish?
If all documentation is in good order, it is possible to complete a loan in about 30 days. However, most loans take between 45 and 60 days to complete. Commercial real estate loans can often take 60 to 90 days, due to the additional complexities of real estate transactions.
The timeline for a loan depends on a variety of factors including:
How far along is the borrower in the purchase process?
Have practice valuations have been ordered?
The type of collateral required; real estate takes longer due to required appraisals
How fast the borrower submits the requested financials and loan documents
For a non-real estate loan, our goal is to complete the process in under 45 days. We start by providing a pre-qualification letter within 48 hours of a submitted loan application.
We know that you're busy running your financial advisory practice. That's why we have created a streamlined loan process designed with your business in mind. It's our goal to make your loan process simple and efficient. To learn more, contact us today.
Get Prequalified in Just 48 Hours
Our goal is to offer potential borrowers a pre-qualification determination within 48 hours of receiving a completed loan application. To get started, contact us today or download our financial advisor loan application now. Then, speak with a loan advisor or send the completed application using our secure document portal. Call us anytime with questions at (402) 858-1249.