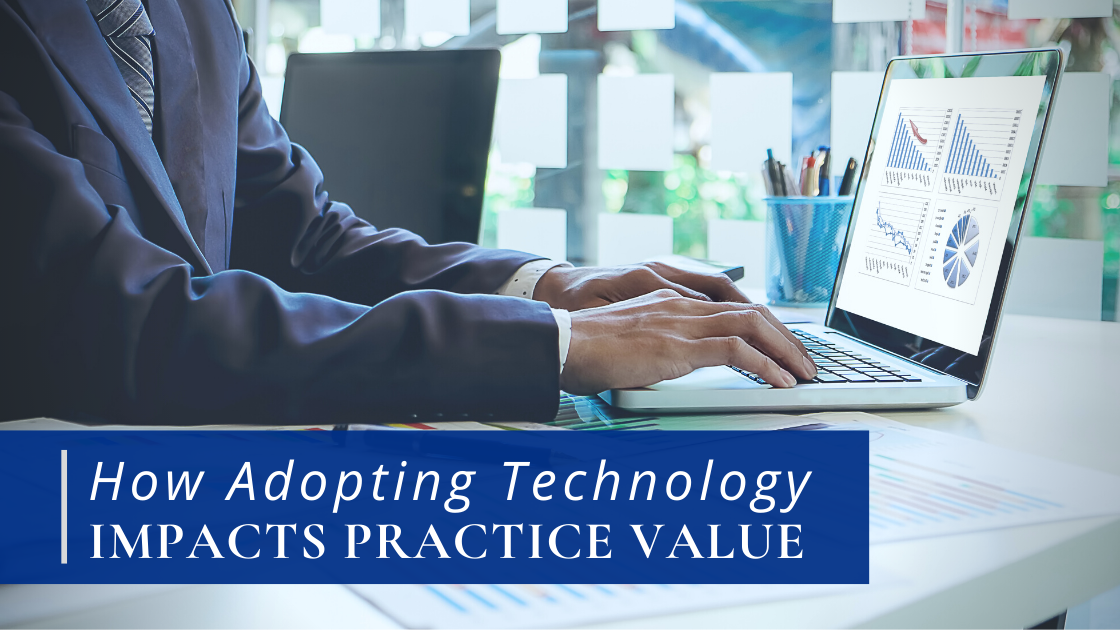 How Adopting Technology Impacts Practice Value
Much of the financial advisory industry had resisted mass adoption of technology over recent decades, but market and environmental pressures during the past few years have made it a necessity. The circumstances of the pandemic forced the need for virtual solutions for managing remote teams and client interactions. This is coupled with increasing demand by clients for digital tools to help them manage and track their financial goals and next generation advisors (who are often digital natives) pushing for tech solutions for operations and practice management.
Adopting technology isn't only about appeasing clients and younger staff members. It also has significant positive, albeit indirect, impact on practice value. This is because technology enables growth and scalability in a practice while simultaneously improving efficiency and profitability. Growth potential and profit are two key factors used to determine a practice's value. So, any improvement in either area will influence practice value.
How Technology Enables Growth and Scalability
In any business, technology is one of the key components for achieving scale. This is because technology helps a practice in key areas: automation, analytics and reporting, and communication. First, technology allows practices to automate a number of tasks, which frees up staff members to focus on other high value tasks, such as generating new leads and serving clients. Since most fin tech is data driven, it provides significant insight into all aspects of a practice including lead management, client experience, task management, and more. This allows a practice leader to identify opportunities for growth.
Ryan Grau, VP of Business Valuation Services and Partner at FP Transitions explains, "Portfolio and billing Management Systems and CRMs are necessary resources to help advisors grow efficient, scalable practices. These resource help identify leads and opportunities as well as allow you to monitor and maintain communications with your current clients." Grau points out that merely having the technology doesn't automatically translate to improved growth, increased profits, and increased value.
How Technology Improves Efficiency and Profit
The ability to automate tasks and communication creates tremendous efficiencies in a practice, which in turn improves the practice's profit margin. According to Grau, technology allows the practice to "streamline communications and client servicing, which makes it possible for a single advisor to service a larger number of households." It also helps eliminate a number of administrative tasks which would otherwise require an additional staff member to complete. By keeping labor costs low while serving a maximum number of clients, the practice can create better profit margins compared to its staff heavy peers.
Although it is an investment, technology creates significant opportunities for growth and efficiencies in a practice. Both of which have a positive and indirect impact on practice value. Firms who have not yet fully embraced and implemented technological solutions for managing and serving clients will soon fall behind, as younger generations mature and inherit wealth from existing clients and more tech savvy advisors emerge to serve them. As this happens the indirect impact of technology on practice value may soon become more pronounced and create a divide between the adopters and laggers in the industry.