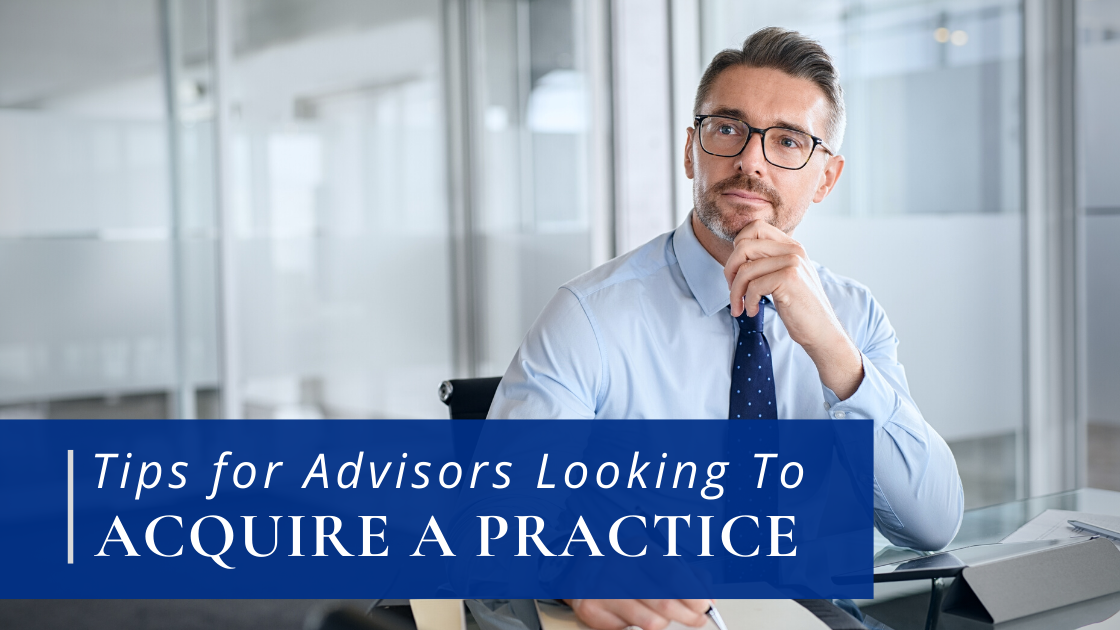 Tips for Advisors Looking to Acquire a Practice
Despite market volatility, advisor M&A activity is still going strong. Interest in acquisitions has grown tremendously, thanks to advisors gaining greater access to capital and other resources. As media coverage continues to highlight the growth potential acquisitions provide and as more consulting firms emerge to provide education and support for acquisition activities, many first-time buyers are entering the market. Whether you're an advisor pursuing your first acquisition, or your fifth, there are some best practices to follow.
Know Why You're Pursuing an Acquisition Strategy
According to James Fisher, VP of Mergers & Acquisitions at FP Transitions, "there's a lot of firms who think they should do M&A because everyone else is." Advisor M&A activity has garnered a great deal of media attention in recent years, while acquisitions has become the default growth strategy for many firms. Following a trend is not a reason to pursue acquisitions. Says Fisher, "you should acquire a practice because it solves for something in your business." Specifically, it should either help solve an operational question, such as enhancing back-office support, or create an opportunity for establishing a foundation for long-term growth by giving the firm a foothold in a new market.
Take A Long-Term View
Fisher notes that, "despite the volatility in the marketplace, smart buyers are taking a long-term view of acquisitions." As Fisher explains, this means looking at the long-term growth potential of an acquisition, not just the immediate impact to the practice's bottom line. Often, the acquiring firm can create additional value through an acquired client group by providing additional services the previous advisor did not offer, through efficiencies created by better back-office support, by having deeper planning conversations that create new opportunities, or by better engaging with client heirs. An acquisition can also help a practice establish a presence in a new geographical market or expand into a close adjacent to their target niche, both of which have long-term growth potential.
Define Your Ideal Opportunity and Stick With It
There have always been more buyers than sellers, and despite claims that a wave of retiring advisors will hit the market with practice sales, it remains a highly competitive market. Getting clear about what you're looking for and what makes a good fit is key to staying competitive as well as to avoid wasting time and energy on the wrong deals. As Fisher warns, "acquiring the wrong practice can create major disruption in your business and cause more problems than it's worth." He stresses how important it is to define what is a good fit not just financially, but operationally and culturally. Fisher says it's important to ask "does the other practice see the world through the same lens as you? Is it a relationship that will work for everyone – your stakeholders, the new clients, staff, and the selling advisor?"
Build Your Bench
Acquisitions are a way for a practice to rapidly achieve scale. But adding 150-200 clients instantly can create havoc in a practice that doesn't have the staff to service them. The recent challenges of the great resignation and competitive labor market have made acquisitions an attractive way to not only gain new clients, but to also acquire new talent. "I've seen firms come in and offer very attractive deal terms to practices with a really strong bench." Fisher goes on to explain that "it's a value add on the seller side as well, if you have the staff to meet their client's needs." So, it's important to build your bench from both angles, making sure you have the staff and capacity to properly service any acquisitions that may not come with a built-in service team.
Overall, it's important to know why you're pursuing an acquisition and to have a plan in place not only for pursuing deals, but for plugging them into your practice. The right acquisition can help a practice achieve long-term growth, but the wrong practice can cause more headaches than opportunities. Know what you're looking for before engaging in the marketplace, and only pursue deals that are in line with your long-term goals and that are truly a good fit from the inside out.