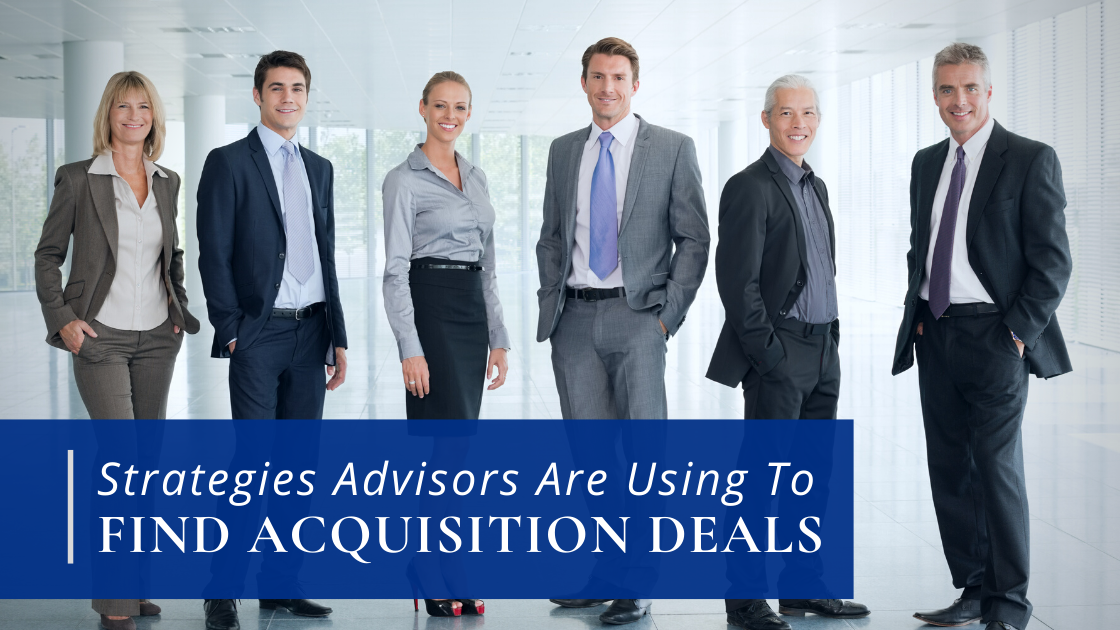 Strategies Advisors Are Using To Find Acquisition Deals
As access to capital has improved, the number of advisors looking to make acquisitions has greatly increased. Buyers still far outnumber sellers, which has helped to make competition fierce. Although the advisor industry is aging, with many advisors nearing retirement age, we still have not seen enough practice sales hit the market to tip the scales in favor of buyers. As a result, advisors who are serious about employing acquisitions as a growth strategy are using multiple channels to source deals.
Networking with Peers
Buyers are building relationships with fellow advisors either in their region or in their broker dealer. Many are focusing on solo advisors who don't have another advisor at the practice who can serve as a successor. Networking allows them to build rapport and to have those conversations that can lead to discussions around successions. As a result, they are able to position themselves both as a trusted confidant and a potential successor.
Broker-Dealer/Custodian Succession Programs
Broker dealers and custodians recognize the value of keeping assets within the firm. Consequently, they've invested tremendous resources into building out internal succession departments designed to help advisors develop continuity plans and transition their practice to a successor within their broker dealer or custodian. Prospective buyers can position themselves as a strong candidate for successions by engaging with their successions department and working with them to meet the goals of the firm.
Industry Recruiters
Advisors have also learned that there are opportunities to engage in practice mergers, "tuck ins" and straight acquisitions via industry recruiters. These recruiters are actively having conversations with advisors of all levels and affiliations. They know which ones are looking to tap into the resources of a larger firm and which ones may be ready to hang it up entirely. Opportunities are especially strong for recruiting outside of your broker-dealer or custodian. In some cases, you may be able to get financial or logistical support from your BD or custodian for external acquisitions efforts via recruiters.
Cold Outreach
Advisors with the time and resources to invest in purchasing lists and sending emails or making phone calls are leveraging cold outreach as a means of finding deals before they hit the market. A Business Development associate who is responsible for client acquisition and/or COI relationships can easily allot some of their time to reach out to other advisors and assess their interest level. Some mid-size practices have even created a role specifically for finding and managing acquisitions.
Marketplaces
Of course, practice sale listing services and M&A marketplaces are still popular. Buyers can register with multiple listing services and receive alerts when new practices are available. Although you must compete with multiple buyers for deals, it is still a good way to identify opportunities. Having financing in place and communicating a strong value proposition will help you stand out against other buyers on the platform.
Interest level in advisor M&A is not expected to wane any time soon. Advisors who are serious about acquisitions will want to utilize multiple strategies to find deals and stay ahead of the competition. It's also smart to have financing in place before pursuing an acquisition, no matter what strategy you use, as buyers with financing in hand are more likely to win deals over others.