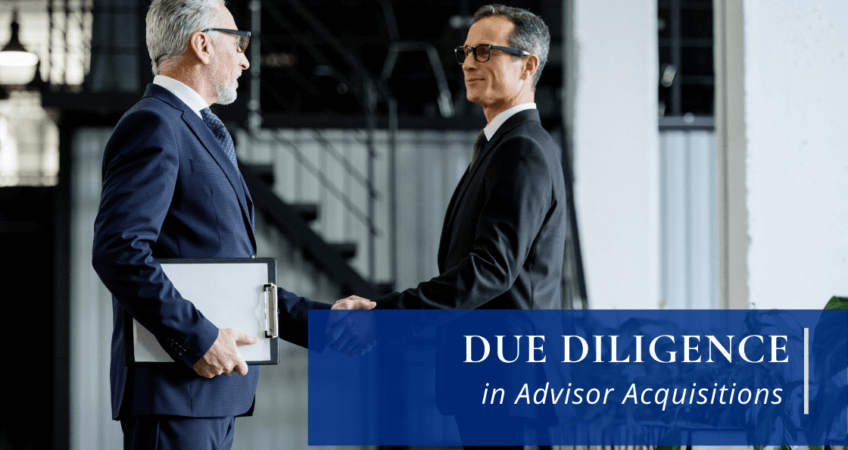 The Importance of Due Diligence When Purchasing an Advisor Practice
More advisors are turning to acquisitions as a reliable growth strategy. Many are seeing great success as a result. However, as with any business transaction, not every deal works out as it should. This usually happens because an advisor didn't consider the importance of due diligence when purchasing an advisor practice.
The rise of practice marketplaces and listing services has made it easier for buyers to locate practices for sale. But finding the right practice that will make your own practice better is more than just finding one at the right price and/or in the right location. A successful acquisition is also about more than just making the deal. It's also about finding a seller who is willing to make the acquisition and transition a success. Because of this, due diligence requires a bit more examination and leg work beyond reviewing the practice financials and terms.
As we discussed in an earlier post, the right practice fit means locating a practice that is in line with your own client niche, investment philosophy, and culture. Conflict can arise during a transition when those items are not in line. Staff and clients will resist the differences, and even walk, taking much of the practice value with them. This is also why a committed seller is crucial to the process. Not only will they be more thorough in their own due diligence when selecting a buyer, they also will do what it takes to minimize client attrition and transition the practice to your care.
To truly do your due diligence, follow these guidelines:
Again, this is a significant business decision. It's important to take the time to find the right experts, to get to know the prospective practices and sellers, and to structure a deal that protects your interests throughout the entire process. If you are considering a practice and looking for guidance on financing or referrals for legal and acquisitions experts, you can contact us. You can also download our free guide on advisor practice acquisitions, which outlines many of the things you need to consider during the process.