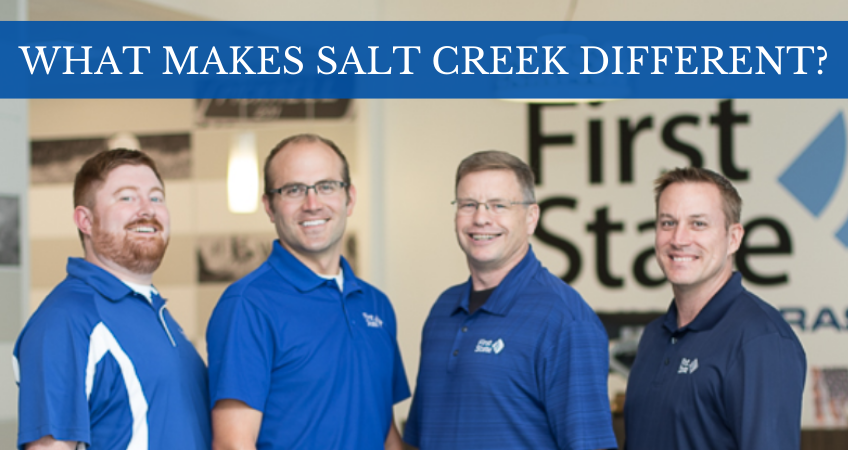 What Makes Salt Creek Different?
Advisors today have several options when seeking a loan to grow their business. However, there are just a handful of banks that currently specialize in lending in the financial advisor space. The few banks that do specialize can process hundreds or even thousands of loans each year. That type of loan volume can make it difficult for a lender to develop a personal relationship lending process, one where the lender can holistically evaluate the borrowers long-term lending needs to maximize the business' growth potential.
Many advisors are looking for that more personal lending approach, so they can achieve the best possible outcome. Salt Creek has designed our process to work closely with advisors and support each step of their financing journey.
Focused Exclusively on Financial Advisors
We know that you're busy running your financial advisory practice. As a direct lender with an experienced team dedicated to serving financial advisors, we understand the complexities of your business and have designed our loans to fit your business model.
Dedicated to Our Midwestern Values
We are committed to the holistic growth of our clients and their practices. A division of First State Bank Nebraska, we stay true to our midwestern values of loyalty, honesty, and customer service.
Simplifying Your Loan Experience
The idea of securing a loan for your business may seem overwhelming and complex. That's why we've created a streamlined loan process designed with your business in mind. It's our goal to make your loan experience simple and efficient.
First, we provide an experienced loan advisor to guide you through your loan process. We strive to minimize the number of bank personnel that you need to interact with during a transaction and reduce the time you need to spend on your loan.
We use cutting-edge technologies to keep our loan process straightforward. Our secure document portal helps quickly collect and organize your loan documents and offers a live dynamic checklist to keep you informed of what you need to do to complete your loan package.
Our loan process is designed to move through the stages of the loan faster and with less hassle. From pre-qualification to funding, our experienced, highly trained team members will keep your loan on track.
The Salt Creek Advantage
Secure Document Portal
Fast and secure document management system to speed up the loan packaging process.
Live Dynamic Checklists
Dynamic checklist updates when you upload requested documents, giving you up-to-date reminders on outstanding items.
Experienced Industry Analysts
Our experienced analysts understand how your business works and can quickly prepare an initial cash-flow analysis for pre-qualification.
Dedicated Loan Advisors
Our expert team is dedicated to the financial advisor lending space and works to take you from pre-qualification to funding as quickly as possible.
Reaching the Best Loan Outcomes
Because financial advisory firms have unique revenue models and include significant "goodwill" values, it's critical to work with a lender who understands your industry. Most lenders do not understand the difference between GDC and AUM. Working with a lender that understands how a financial advisor's practice operates will increase the chances your loan will get approved and progress smoothly.
Working with a professional to prepare your financial documents and getting the selling advisor involved in the process early can help improve your outcome. Preparing in advance and working closely with your loan advisor can help provide the best and most efficient loan experience.
Get Prequalified in Just 48 Hours
Our goal is to offer potential borrowers a pre-qualification determination within 48 hours of receiving a completed loan application. To get started, contact us today or download our financial advisor loan application now. Then, speak with a loan advisor or send the completed application using our secure document portal. Call us anytime with questions at (402) 858-1249.