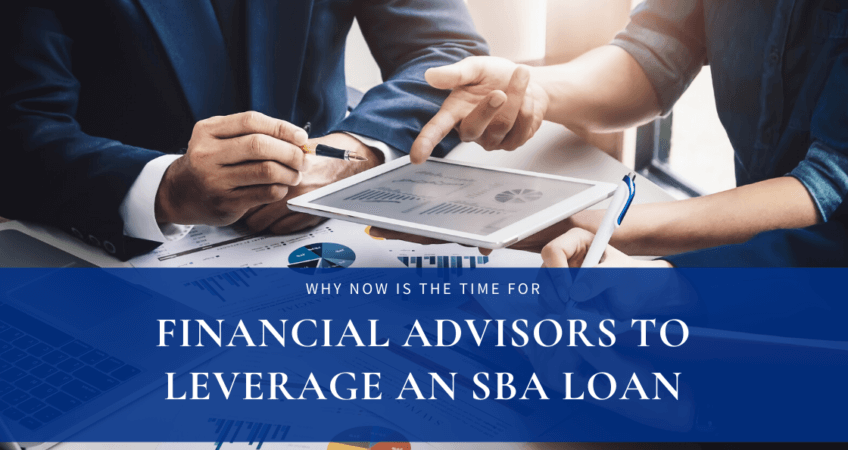 Why Now Is The Time For Financial Advisors To Leverage An SBA Loan
Covid has brought many changes and challenges to the financial industry. It has also brought opportunity in the form of government programs designed to keep small businesses not only open, but also growing. Chief among them are the SBA 7(a) and 504 loan programs, which are designed to make credit accessible to business owners looking for working capital, acquisition loans, partner buy outs, and to invest in commercial real estate.
As part of the CARES Act and subsequent rulings, the SBA is currently offering borrowers 6 months of free payments on loans that are closed and fully funded by December 27, 2020. Combined with the low interest rates offered, the SBA 7(a) and 504 loan programs are a great option for advisors looking to access affordable capital to fund growth and major changes in their practice.
Acquisitions and Partner Buy Outs
The market fluctuations and uncertainty brought on by Covid has spurred many firms to accelerate their succession plans. SBA 7(a) loans help facilitate external acquisitions as well as internal successions and partner buy-outs. There are ways to structure the loans for phased successions which allow for a smoother transition and extended pay out.
Commercial Real Estate
The SBA 504 loan program allows borrowers to do leasehold improvements, purchase and remodel existing real estate, or construct new real estate. For advisors paying rent, this creates an opportunity to turn a straight expense into an appreciable asset. By owning the real estate, the firm can build equity and write off additional costs associated with the space. Additionally, the SBA allows a certain percentage of the property to serve as leasable space, which can create additional income for the firm and offset the loan obligation.
If you are interested in leveraging SBA loans to grow your practice, it is best to connect with an experienced SBA lender who knows the industry and can help advise you on your options. Preferred Lending Partners, like Salt Creek, are especially poised to take advantage of the current SBA program benefits. This is because their preferred status allows them to process SBA loans faster, ensuring they can meet the deadline to qualify for the free payments. As with any loan, the timeline to process and close the loan is dependent on a responsive borrower providing all documentation as requested.