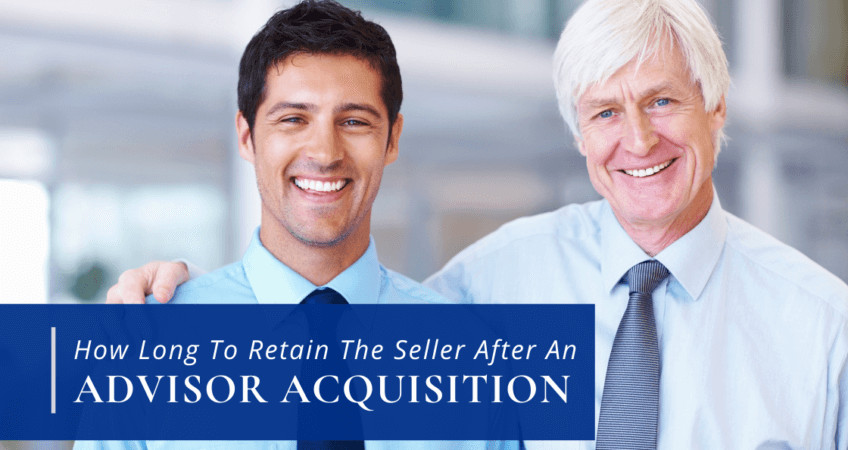 How Long To Retain The Selling Advisor After An Acquisition?
The success of an acquisition is largely determined in the transition. Client retention is critical, and the biggest factor that impacts client retention is the seller's role in introducing and helping transition the clients to the new firm. In previous years, this meant that as soon as the transition was complete the seller's involvement in the practice would end. But as the advisor acquisitions landscape has changed, we've seen sellers remain on board for longer periods of time. There are many reasons for this trend.
Key Reasons Sellers Are Staying On Longer
One of the primary reasons why advisors are choosing to stay on board after an acquisition is due to a timing issue between their chosen retirement date and the point at which their practice value peaks. One of the biggest factors that impacts practice value is its growth trajectory. Often, advisors nearing retirement start to slow down business development activities. This can lead to a decline in practice value. So, in order to sell when practice value is at its peak, advisors are looking for "sell and stay" opportunities that will let them cash out equity without being forced into early retirement.
Another key factor is technological and market changes driving advisors to hand over the burden of practice ownership so they can focus on pursuing other professional goals. For some advisors this means moving out of leadership and serving solely as a servicing advisor to their clients until they are ready to retire. For others this means handing over ownership and client servicing roles to serve in a leadership capacity and help drive strategic initiatives such as building relationships with Centers of Influence. In some cases, this becomes more of a merger than an acquisition. Either way, advisors can tap into the resources of another firm to either take over the operations or client servicing aspect of the practice.
How Long To Retain The Seller After The Acquisition?
The question remains, how long should a purchasing advisor retain a seller following an acquisition? The decision isn't solely up to the purchasing advisor. Some sellers stipulate their retention requirements when they go to market. Also, some financing programs set limits on how long a seller can stay on board following the transaction. Typically, the retention times for selling advisors can be viewed as immediate, mid-term, and long-term.
Immediate Exit
This is when the seller's involvement terminates as soon as the transaction is complete. This is usually once the clawback period for client retention ends, which is generally 3-6 months. This is good if there is no need for the seller to provide ongoing support in a client servicing role and if they will have no leadership or decision-making capacity in the practice post-transaction. This is typically the arrangement for advisors who are truly ready to retire and have no desire to stay involved in a professional capacity.
Mid-term Commitment
Sometimes an advisor will stay on for a period of 1-2 years to help fully transition all clients and slowly ease into their retirement. This arrangement works well for larger practices where a client transition may take longer or again, if the selling advisor is close but not quite ready to retire. Also, certain funding options will stipulate that the advisor can only stay on for a maximum of two years.
Long Term – "Sell and Stay"
These arrangements are typically made in one of two scenarios. In one scenario, the selling advisor is far from the typical retirement age and wants to relinquish ownership so they can serve as a client-facing advisor only. For the purchasing advisor this provides them with that client facing role and an advisor who already has rapport with the clients. This helps the purchasing advisor scale up quickly and immediately start serving those clients without having to recruit someone into the role. The other common scenario is when the selling advisor is ready to transition out of the client facing role but doesn't have a successor. The purchasing practice provides them with that client-facing successor so they can transition into a purely leadership or business development role. The purchasing advisor gains their reputation and experience and a solid resource for driving other critical growth initiatives.
It's important to remember that each deal is unique and each selling advisor and purchasing advisor's needs and goals are different. As the markets changes and the needs of the industry evolve, we will continue to see increased variety in the types of arrangements advisors make in these transactions. It's also important to not assume what a selling advisor wants. If you work to build rapport you will be able to have open conversations and explore different scenarios to find one that works for both parties.