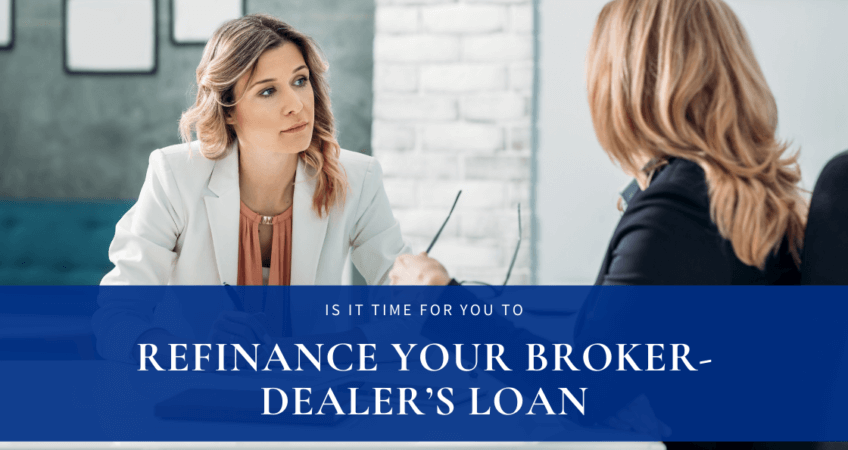 Is It Time To Refinance Your Broker-Dealer's Loan
Financing options for advisors have changed dramatically over recent years. One unexpected player that has entered the finance game are the broker-dealers themselves. Many broker-dealers recognized the value of offering capital to their advisors. Namely, giving advisors access to capital so they can acquire new business either organically or inorganically, or offering loans as incentives to recruits transitioning to the broker dealer from another platform. In both cases, serving as a capital partner created a mutually beneficial relationship and deeper loyalty between advisor and broker dealer.
Although this arrangement has many advantages, there are situations when it makes sense for an advisor to refinance the debt to their broker dealer. We cover the most common situations below.
To Improve Cash Flow
One of the main reasons to refinance debt of any kind is to improve cash flow. Interest rates can vary among broker dealer loans. BD Loans are also often tied to performance. Meaning, as revenue and profitability increase, the loan repayment also increases. Refinancing to a fixed rate and loan payment can help stabilize the loan expense and free up cash flow for other growth initiatives.
To Remove Restrictive Covenants
Another reason to refinance debt is to remove restrictive covenants. This is especially true for advisors looking to sell a portion or all of their practice. Sometimes the perfect buyer doesn't operate under your broker-dealer, but many BD loans forbid the sale of the practice to an outside buyer. Other covenants may exist, but this is the one we see come up most often.
To Transition To Another BD or Go Independent
Related to the issue of outside successions, many BD loans often stipulate that they must be paid in full before changing broker-dealers or going independent. Few advisors are in the position to pay back a loan in full, especially if they are navigating the costs of going independent. Some broker-dealers may offer to help pay the other broker-dealer's loan as part of their recruiting incentives, but often those too come with stipulations that can limit an advisor's options in the future.
Luckily, many lenders offer flexible solutions for refinancing all kinds of existing debt, including broker dealer loans. Often multiple loans can be consolidated into a single loan during refinancing, resulting in better interest rates and terms across the board. Whether you plan on making a major change or not, it's always worth it to speak to a lender about refinancing existing debt. There's never a bad time to save money and it allows you to put your practice in a prime position should you want to look at making changes in the future.