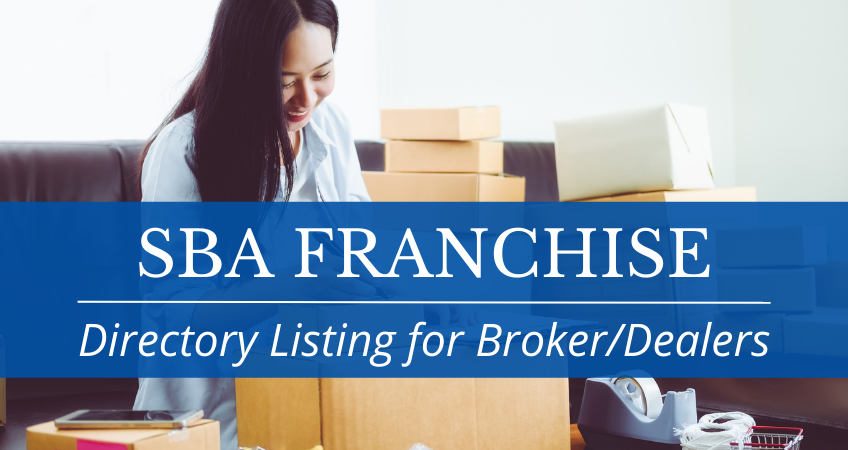 SBA Franchise Directory Listing for Broker/Dealers
Is your Broker/Dealer on the SBA Franchise Directory? They need to be for SBA lending.
Considering an SBA loan to help grow your financial advisor practice? If you operate under any type of signed agreement with a Broker/Dealer (think rep agreement), those agreements need to be reviewed by SBA, and the brand listed on the SBA franchise directory (even if they are not a franchise) for you to receive an SBA loan. Check the list here to see if you broker/dealer is eligible for SBA lending. If they aren't, keeping reading to learn how, and why, they must be added so you can get an SBA loan.
"But my broker/dealer isn't a franchise"…
Currently Ameriprise is only one broker/dealer that operates a franchise system for financial advisors. So, you would think Ameriprise would be the only broker/dealer that needs to be listed on the SBA franchise registry. However, for an advisor to be eligible for SBA financing, the Broker/Dealer the advisor operates under must submit all agreements and/or contracts to SBA for legal review. This review will determine whether a "brand" is considered a franchise in the eyes of the SBA. Most times, broker/dealers will submit rep agreements for review and SBA will determine the broker/dealer is NOT a franchise and will list the Broker/Dealer accordingly. Once this happens a Broker/Dealer is listed on the franchise directory as NOT a franchise an SBA lender is cleared to process an SBA loan with all advisors that operate under that broker/dealer. It is important to note that a lender cannot approve or fund an SBA loan until this process is complete. This can lead to serious delays as it is the Broker/Dealer that must submit the agreements to the SBA for review, not the lender. This process often requires coordination with executive level management at the Broker/Dealer and the SBA and starting that ball rolling can be difficult and can cause loan processing to grind to a halt.
Avoid Loan Processing Delays
Unfortunately, a lender cannot submit agreements for review. Adding a brand to the directory must be initiated by an authorized official of the brand. Any and all agreements that are required must be reviewed by the SBA. Agreements can be submitted for review at franchise@sba.gov for the eligibility determination. Upon completion of SBA's review and a determination by SBA that the brand is eligible, SBA will list the brand on the Directory, along with an indication of the type of Addendum being used, if necessary, and will assign an SBA Franchise Identifier Code. If SBA determines that the brand does not meet the FTC definition of a franchise, SBA will list the brand on the Directory but will indicate that it is not a franchise and SBA will not assign an SBA Franchise Identifier Code.
If you think an SBA loan might be in your future it could save you time and money to make sure that your broker/dealer is listed on the directory. If you, or your broker/dealer, need assistance in initiating this process please contact us.